A SUM AND AN ANY – NEVER A THIS OR A THAT
'Given this incredible longevity, plastic can be understood as a non-filial human progeny, a bastard child that will certainly outlive us.'
(Heather Davis, Toxic Progeny: The Plastisphere and Other Queer Futures, 2015)
A sum and an any – never a this or a that explores the role the plastisphere plays within queer futurity. Based on Heather Davis' lecture series, Queer Ecologies, Unintentional Aesthetics and Other Conundrums of the Plastic Age, the installation interacts with human relations to plastic and centers its ability to shift the anthropocene: creating a queer future whereby the natural and unnatural are no longer oppositional, but a sum of both.
Synthetic polymers (plastic), and the chemicals released by these, queer the body by impeding reproduction, and even shifting the hormonal make-ups used to assign sex in fetuses. Gendered behaviours, appearances and identities are becoming increasingly queer: this work exposes the intimacies between the natural and the toxic, and culture formation.
The objects that make up this installation stand in as unknowns: they expand, shift and merge natural and cultural structures and systems. These objects represent the ambiguity of a transformed space where binaries cannot be applied. Plastic, here, is no longer a universally objective substance free of historical weight, as it is no longer alienated from social processes. The objects take on the language of 'new' progenies: queer children which, growing up in a toxic environment, have lost hope in futurism and the social order, and instead, "Acknowledge the horrifying future that is rapidly approaching, finding a way to live without hope as affirmation… " (Davis, 2015).
A sum and an any – never a this or a that
2016 - 2017
Installation, Synthetic polymers, plaster, concrete (Detail)
Dimensions variable
A sum and an any – never a this or a that
2016 - 2017
Installation, Plastic, plaster, synthetic sponge (Detail)
Dimensions variable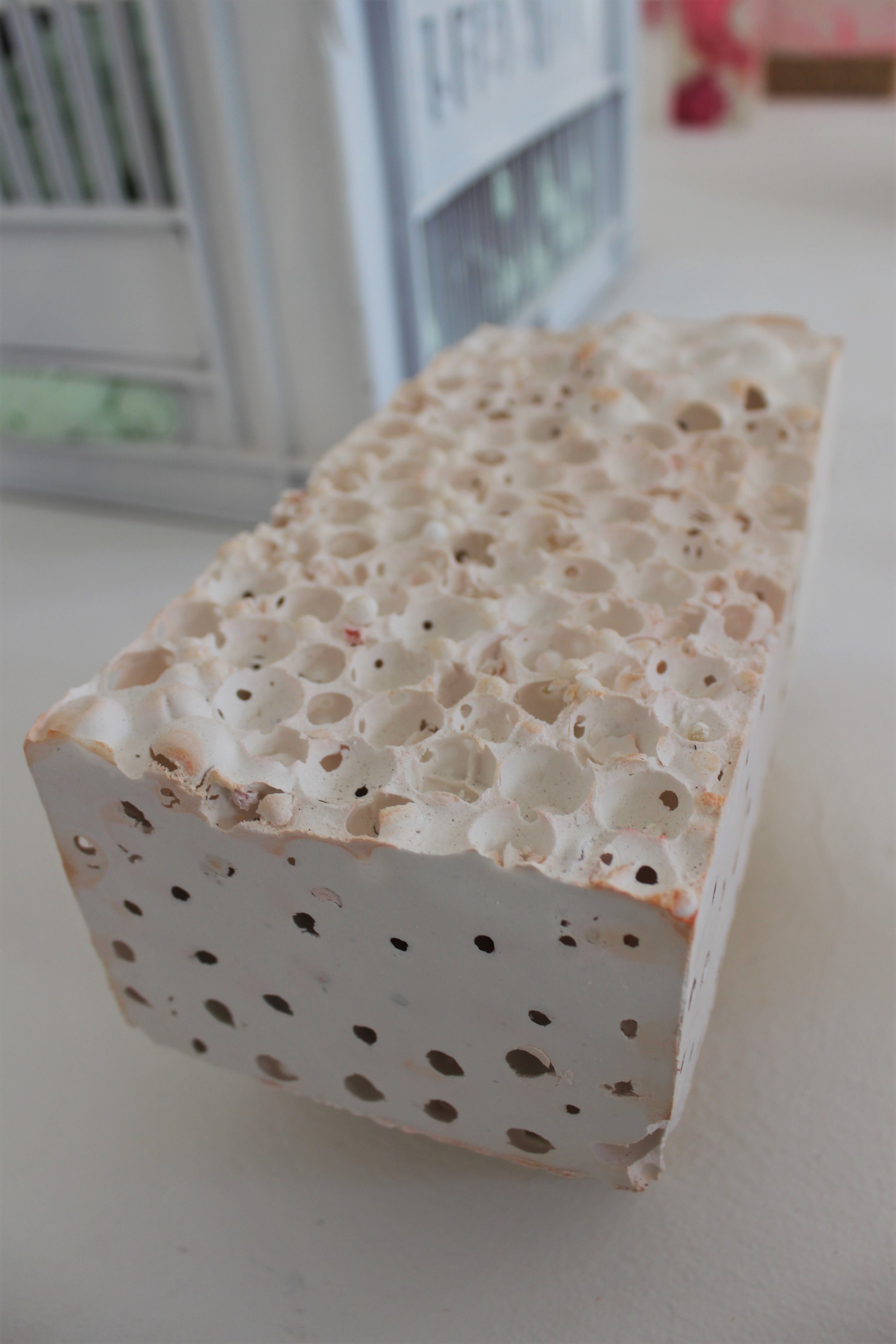 A sum and an any – never a this or a that
2016 - 2017
Installation, Synthetic polymers, plaster (Detail)
Dimensions variable